RFID POKER TABLES
The latest innovation to storm the poker market come sin the form of RFID tables, a fully autonomous fully customisable piece of poker kit. Using a combination of cutting edge technology, bespoke software and a wealth of poker experience, Andrew Booth of www.cardroomdirect.com – already responsible for many poker tables you see in casinos and software engineer Andrew Milner have created a poker table that can rival an entire T|V production crew.
The new tables, which are currently rolling out across the UK's major card rooms, bring the TV experience to the amateur player by streaming the information across the interne. More than that, they enable a card room manager to create an all round experience for both the players and spectators. Each RFID is capable of displaying card room percentages, chip counts, payout information and even scrolling adverts or messages along the stream. In a nutshell, RFID tables take all the TV wizardry of a post production edit and put it all at the users fingertips.
Currently retailing at around £5000 with a pack of chipped cards that cost £150, they are probably out of the league of most Tuesday night home gamers for now, but given how technology comes down in price so quickly don't be surprised to see a version good and cheap coming out soon.

RFID or Radio Frequency Idenntification Technology sends out radio waves emitted from an electronic tag to a receiver unit. In this case the electronic tags are located in the specially made cards which, when passed over a reader – located at various points at the table – register on the system and display a graphic via  alive stream.
On each RFID table there are readers located in front of each player in order to read their hole cards. There are also readers in the centre of the table to read the community cards, as well as a muck section where discarded cards are placed so that the system knows which cards are out of circulation.

Poker Articles
Interview with Liv Boeree
Radion Frequency Identification Poker Tables
Some Internet Players to LOOK OUT for
Q+A With Phil Hellmuth
Matt Perrins Wins WSOP Bracelet 2011
Elky picks up bracelet in 7 card stud
Chris Moneymaker reflects since he won wsop
All in decisions in MTT poker
The changing nature of starting hands
The biggest mistake made in poker
Guide to MTT Poker
WSOP 2011 news
Zero Roulette
---
Visit The Play Poker page
---
Recommended Gaming Sites...
RED KINGS √POKER, √CASINO, √SPORTSBETTING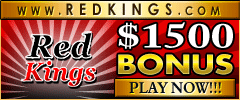 ---
SUPERCASINO UK - Play live on channel 5



LIVE ONLINE ROULTTE - PLAY ALONG ON TV
---


888 Casino for UK players
√ 365 Free Spins
√ 24 hr support

Partypoker
most regions
√ 100% match


Elky picks up bracelet in 7 card stud



Chris Moneymaker reflects since he won wsop

All in decisions in MTT poker

The changing nature of starting hands

The biggest mistake made in poker

Guide to MTT Poker
WSOP 2011 news
---
POKER ROOMS

3 Card Poker
A typical 3 card poker table
Order of Hands in 3 card poker
How to play 3 card poker
Ante bets
Pair Plus bets
Ante Bonus
Pair Plus Paytable
Dealer doesnt qualify
Summary
Strategy and Odds

Roulette
Basic roulette bets
Picture bets
The outsides
The dozens
The coloums
Straight ups/splits/corners
Street
Six line
Call bets
Blackjack
Using the end box
Playing statistically correct
Using the double
Counting cards
Texas Hold em Poker
The ranking hands of poker
Poker tournament play guide
Where to play Poker:-